Sigma Delta Pi Initiation Ceremony
SIGMA DELTA PI National Spanish Honor Society, kappa Upsilon Chapter
2016 Initiation  Ceremony and Awards Reception
University of Delaware
April 29, 2016 4:00-6:00 PM
Trabant room 209-211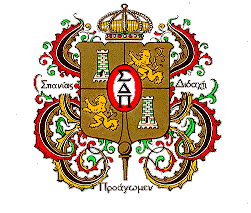 Spanías Didagéi Proágomen
SIGMA DELTA PI CEREMONY PROGRAM
Sigma Delta Pi initiates are dedicated to the continued learning and fostering of the Spanish language, and Hispanic literature and culture. The Sigma Delta Pi initiation ceremony recognizes each initiate's dedication to the study of Spanish and asks that he or she pledge to keep that interest alive.
Entrance and welcome
Initiation of Honorary Members
Professor Miguel Ángel Martínez
Initiation of 2016 Members
Pledge
Literary Readings of poems, organized by Professor Gladys Ilarregui
 Initiation Ritual
Musical Interludes by
Chris Braddock, guitar
Mindy Bowman, flute
Canto de Romería/Mexican traditional
El Chihuanco, Bolivian traditional
El Grillo, Colombian traditional
 Reception and Awards Ceremony
SIGMA DELTA PI 2016 INITIATES
Rebecca Jill Arias
Alexa August
Kelsey Burke
Caraline Canning
Benjamin Carleton
Scott Eisenhart
Haley Hughes
Daniel Hutton
Laura James
Julia Johansson
Christina Kelly
Matthew Mendoza
Katelyn Muscat
Hannah Orlando
Richard Raspa
Amber Riley
Selby Seador
Michelle Thompson
Victoria Weston
Brian Zilberberg
SIGMA DELTA PI AWARDS
Sigma Delta Pi Book Award
The National Spanish Honor Society honors the new initiate majoring in Spanish major with the highest cumulative index.
Recipient: Benjamin Carleton (3.975)
Awards for Excellence in Spanish Studies
Best Graduate Student Essay
Awarded for the best essay by a graduate student in Spanish Studies. Minimum GPA of 3.0 required.
Recipients:
Nathan Herbert for his essay "Los pordioseros: abyección en El Señor Presidente," written under the direction of Professor Cynthia Schmidt-Cruz.
Benjamín Romero Salado for his essay "Like carnaval": suspensión, subversión y lo carnavalesco en "Ustedes serán muy felices" written under the direction of Professor Joan Brown.
Best Essay in Upper-division Hispanic Literature and Culture Courses
Awarded for the best essay in an undergraduate upper-division course in Hispanic literature. Minimum GPA of 3.0 required.
Recipient:
Selby Seador for his essay "El simbolismo del estilo en La plaza del Diamante" written under the direction of Professor Joan Brown.
Janet Murdock Prize
Awarded to the participants in semester-long Study Abroad programs with the highest cumulative grade point average.
Recipients:
Kathleen Loden Dubis (3.533) for the Buenos Aires, Argentina program.
Jeel Oza (3.896) for the Granada, Spain program.
the kappa upsilon chapter and Sigma Delta Pi
ΣΔΠ, the National Collegiate Hispanic Honor Society (Sociedad Nacional Honoraria Hispánica), was established on November 14, 1919, at UC, Berkeley. The ΚΥ, U. of Delaware chapter was founded in 1974 by Dr. Julián Valbuena, Elias Ahuja Emeritus Professor of Spanish. ΣΔΠ's insignia is the royal seal of Ferdinand and Isabel, representing Castile, León and Aragón. The Society's colors are red and gold, & its flower is the red carnation.
The Chair and the Spanish and Pedagogy Faculty of the Department of Languages, Literatures and Cultures, listed below, congratulate the new initiates of Sigma Delta Pi and the award recipients:
Annette Giesecke
(Interim Department Chair)
Jesús Botello
(Faculty Advisor, Sigma Delta Pi)
Jorge Cubillos
(Secretario)
Cristina Guardiola
(Anunciadora)
Ruth Bell, Jesús Botello, Persephone Braham, Joan Brown, Hans-Jörg Busch, Iris Busch, Robert Corradetti, Alberto Delgado,  Carmen Finnicum, Lee Glen, Cristina Guardiola, Fátima Haq, Stacey Hendrix, Crista Johnson, Loretta Lantolf, Cynthia Lees, Doris Manzano, Dora Marín, América Martínez, Ana Martínez Vela, Thomas McCone, Meghan McInnis-Domínguez, Susan McKenna, Basia Moltchanov, Krystyna Musik, Aurelia Río, Bonnie Robb, Asima Saad-Maura, Cindy Schmidt-Cruz, Eduardo Segura, and Alexander Selimov.
This entry was posted in Polyglot, Student Awards and tagged Fall 2016 Polyglot, Spanish.