Dr. Riccarda Saggese, Easy Italian Reader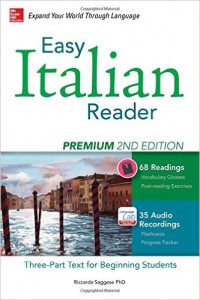 Dr. Riccarda Saggese, Easy Italian Reader; Premium Second Edition : A Three-Part Text for Beginning Readers. (New York: McGraw-Hill, 2015). Easy Italian Reader begins with the story of Christine, an American girl whose family moves to Italy.  She acclimates to her new home with help from a Roman friend, Antonio. As students reads about her experiences, they discover the nuances of language and culture right along with Christine. The second section provides a colorful history of Italy, from the founding of Rome to the present. The third section contains materials from contemporary literature, giving learners the thrill of reading authentic Italian. The Bonus App that accompanies this book provides:
–       Flashcards to aid memorization of all vocabulary terms.
–       Audio recording of 35 passages and numerous exercises
–       Auto-fill glossary for quick reference
–       Progress tracker to assess learner's progress
This entry was posted in Books Published, Polyglot and tagged Fall 2016 Polyglot, Italian.