Daughters of Alchemy: Women and Scientific Culture in Early Modern Italy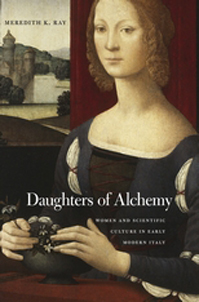 Daughters of Alchemy: Women and Scientific Culture in Early Modern Italy
The era of the Scientific Revolution has long been epitomized by Galileo. Yet many women were at its vanguard, deeply invested in empirical culture. They experimented with medicine and practical alchemy at home, at court, and through collaborative networks of practitioners. In academies, salons, and correspondence, they debated cosmological discoveries; in their literary production, they used their knowledge of natural philosophy to argue for their intellectual equality to men.
Meredith Ray restores the work of these women to our understanding of early modern scientific culture. Her study begins with Caterina Sforza's alchemical recipes; examines the sixteenth-century vogue for "books of secrets"; and looks at narratives of science in works by Moderata Fonte and Lucrezia Marinella. It concludes with Camilla Erculiani's letters on natural philosophy and, finally, Margherita Sarrocchi's defense of Galileo's "Medicean" stars.
Combining literary and cultural analysis, Daughters of Alchemy contributes to the emerging scholarship on the variegated nature of scientific practice in the early modern era. Drawing on a range of under-studied material including new analyses of the Sarrocchi–Galileo correspondence and a previously unavailable manuscript of Sforza's Experimenti, Ray's book rethinks early modern science, properly reintroducing the integral and essential work of women.