Representing the Other in Modern Japanese Literature (co-editor) Routledge 2007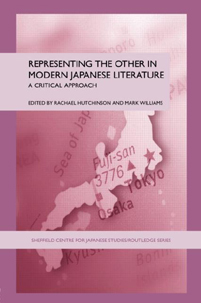 Representing the Other in Modern Japanese Literature (co-editor) Routledge 2007
Representing the Other in Modern Japanese Literature looks at the ways in which authors writing in Japanese in the twentieth century constructed a division between the 'Self' and the 'Other' in their work. Drawing on methodology from Foucault and Lacan, the clearly presented essays seek to show how Japanese writers have responded to the central question of what it means to be 'Japanese' and of how best to define their identity.
Taking geographical, racial and ethnic identity as a starting point to explore Japan's vision of 'non-Japan', representations of the Other are examined in terms of the experiences of Japanese authors abroad and in the imaginary lands envisioned by authors in Japan.
Using a diverse cross-section of writers and texts as case studies, this edited volume brings together contributions from a number of leading international experts in the field and is written at an accessible level, making it essential reading for those working in Japanese studies, colonialism, identity studies and nationalism.