A Russian Journey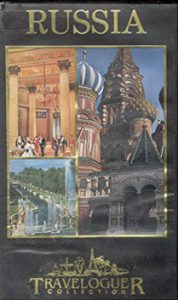 Call Number: RUSDOCA1
Alternate Title: A Russian Journey
Year: 1987
Director: Englewood, CO
Duration: 60 mins
Language(s): Russian
Subtitle Language(s): English
This film presents a travelogue of the Soviet Union:
Russia, formidable and impressive!  So huge it covers one sixth of the earth's land surface, enfolding 129 ethnic cultures.  Cataloger Clay Francisco has traveled and filmed in the USSR since 1962.  Join him on a "Russian Journey".  Marvel at shimmering golden fountains and statuary in the Czarist Palace in Leningrad.  Explore the fabulous Hermitage, one of the world's great art museums.  Discover palaces once inhabited by Czar Nicholas II, Pushkin, Rasputin, Lenin, Stalin, Peter the Great, and Ivan the Terrible.
In Russia's capital city, Moscow, enter Red Square, and see the Lenin Mausoleum where over 30,000 people visit every day.  Toast the health of a bride and groom as they pledge their loyalty to the state and to each other.  Visit a family in their home and join Muscovites in Gorki Park for a Children's Day celebration.  See a performance of one of Russia's 77 circuses.
Travel through the nation's breadbasket in the Ukraine and join vacationing Russians as they sunbathe by the Crimean Sea.  Experience centuries old Samarkand in Soviet Asia through which Alexander the Great passed in 329 B.C.  The mosques and bazaars of ancient Bukhara and Tashkent will fascinate you.  Travel through grim, frozen villages in Siberia and on the Trans-Siberian Railroad and tend herds of reindeer with the Chukchi people during a harsh Siberian winter.  Experience a Russia few will ever see.