A Very Long Engagement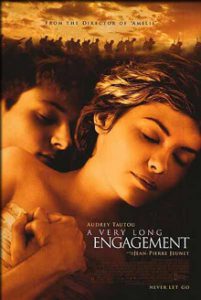 Call Number: FREFFDVDV6, Digital Video
Alternate Title: Un long dimanche de fiançailles
Year: 2004
Director: Jean-Pierre Jeunet
Duration: 133 mins
Language(s): French
Subtitle Language(s): English
Five French soldiers are convicted of self-mutilation in order to escape military service during World War I. They are condemned to face near-certain death in the no man's land between the French and German trench lines. It appears that all of them are killed in a subsequent battle, but Mathilde, the fiancée of one of the soldiers, refuses to give up hope and begins to uncover clues as to what actually took place on the battlefield.
Along the way, she discovers the brutally corrupt system used by the French government to deal with those who have tried to escape the front. She also discovers the stories of the other men who were sentenced to the no man's land as a punishment. She, with the help of a private investigator, attempts to find out what happened to her fiancé. The story is told both from the point of view of the fiancée in Paris and the French countryside (mostly Brittany) of the 1920s, and through flashbacks to the battlefield.
Eventually, Mathilde finds out that her fiancé is alive, but that he suffers from amnesia. Seeing Mathilde, Manech seems to be oblivious to her. At this, Mathilde sits on a garden chair silently watching Manech with tears in her eyes and a smile on her lips.
A Capstone Video