Amarcord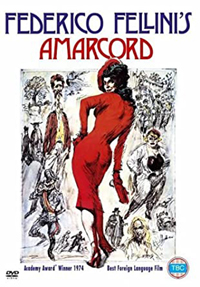 Call Number: Digital Video
Alternate Title: Amarcord
Year: 1973
Director: Federico Fellini
Duration: 118 mins
Language(s): Italian
Subtitle Language(s): English
In an Italian seaside town, young Titta (Bruno Zanin) gets into trouble with his friends and watches various local eccentrics as they engage in often absurd behavior. Frequently clashing with his stern father (Armando Brancia) and defended by his doting mother (Pupella Maggio), Titta witnesses the actions of a wide range of characters, from his extended family to Fascist loyalists to sensual women, with certain moments shifting into fantastical scenarios.
At the center is an overgrown young adolescent, the son of a large, loud family, who is dizzied by the life churning all around him — the girls he idealizes, the tarts he lusts for, the rituals of the village year, the practical jokes he likes to play, the meals that always end in drama, the church's thrilling opportunities for sin and redemption, and the vaudeville of Italy itself — the transient glories of grand hotels and great ocean liners, the play-acting of Mussolini's fascist costume party.
Sometimes from this tumult, an image of perfect beauty will emerge, as when in the midst of a rare snowfall, the count's peacock escapes and spreads its dazzling tail feathers in the blizzard. Such an image is so inexplicable and irreproducible that all the heart can do is ache with gratitude, and all the young man can know is that he will live forever, love all the women, drink all the wine, make all the movies and become Fellini.