Art of the Western World From Ancient Greece to Post Modernism 2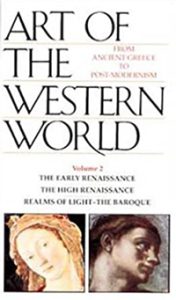 Call Number: ANCDOCA2.2
Alternate Title: None
Year: 1989
Director: Perry Miller Adato
Duration: 171 mins
Language(s): Classics
Subtitle Language(s): None
Volume 2
The Early Renaissance  Part I  The rebirth of humanistic ideas marked the Renaissance in Italy, as seen in Florentines Chiberti and Botticelli.  Part II  Glowing color and minute detail set the work of the Flemish masters Van Eyck and Grünewald apart from the Florentines.
The High Renaissance  Part I  Da Vinci, Michelangelo, and Raphael displayed extraordinary talent working in a variety of media.  Part II  Venetians like Titian, Tintoretto, and Palladio readapted the classical style with a theatrical flourish.
Realms of Light – The Baroque  Part I  To counter the Reformation, the church relied on dramatic depictions of religious scenes.  Part II  The royal courts commissioned major paintings by Velasquez and Rembrandt.