Before Night Falls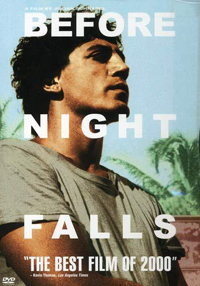 Call Number: Digital Video
Alternate Title: Before Night Falls
Year: 2000
Director: Julian Schnabel
Duration: 133 mins
Language(s): Spanish
Subtitle Language(s): English
In Before Night Falls, Reinaldo Arenas is born in Oriente in 1943 and raised by his single mother and her parents, who soon move the entire family to Holguín. After moving to Havana in the 1960s to continue his studies, Reinaldo begins to explore his ambitions, as well as his sexuality. After receiving an honorary mention in a writing contest, Arenas is offered the chance to publish his first work. Through his work and friendships with other openly gay men (such as Pepe Malas and Tomas Diego), Arenas manages to find himself.
The political climate in Cuba becomes increasingly dangerous, and in the early 1970s Arenas is arrested for allegedly sexually assaulting minors, and for publishing abroad without official consent. In the next decade, he is in and out of prison, attempting and failing to leave the country several times.
In 1980, Arenas finally leaves Cuba for the United States, starting a new life with his close friend Lazaro Gomez Carriles. A few years later, Arenas is diagnosed with AIDS, and after spending several years suffering he dies in 1990.