Main Street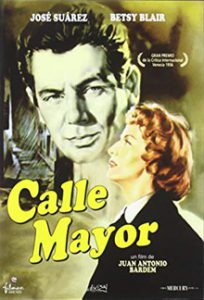 Call Number: SPAFFC4.1
Alternate Title: Calle Mayor
Year: 1956
Director: Juan Antonio Bardem
Duration: 97 mins
Language(s): Spanish
Subtitle Language(s): English
Isabel (Betsy Blair) is a good-natured and sensible spinster who lives in a small town with her widowed mother. At the age of 35, she is losing all hope of getting married and having children.
A bunch of bored middle-aged friends decide to play a trick on Isabel: Juan (José Suárez), the youngest and most handsome of them, will pretend to fall in love with her. As Isabel lives the courtship, full of hope and joy, Juan realizes too late the cruelty of the situation, but, pushed by his buddies, doesn't dare tell Isabel the truth.
When the day of the gala dance at the town's club comes, Isabel is still living her dream of love. She expects her engagement to be publicly announced from the stage, but Juan, desperate, tries to do anything to shy away from the muddle.