De Gaulle and France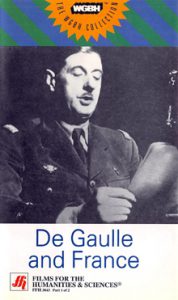 Call Number: FREDOCD1.1, FREDOCD1.2, Digital Video
Alternate Title: DeGaulle and France
Year: 1992
Director: WGBH Educational Foundation
Duration: 180 mins
Language(s): French
Subtitle Language(s): English
De Gaulle and France is a vivid portrait of Charles de Gaulle as a person and as one of the giants of 20th-century political leadership.  The three-hour program combines rare archival footage and candid interviews with men and women whose lives intersected that of the great military officer, politician, statesman, orator, and chronicler of history.
Hour One: A Vision of France traces the personal odyssey that led Charles de Gaulle to devote his life to la gloire de la France – the glory of France – including his heroic call for resistance to the Nazis and his formation of the Free French forces, his triumphant role in the liberation of Paris in 1944 and his shocking resignation after only 16 months as post-war France's president.
Hour Two: Return of the General begins with the years de Gaulle spent out of the political arena and examines his return to power as France was sinking into civil war over the question of freeing its colonies in Africa, his controversial resolution of the Algerian War, and his work to reshape France into a new, more modern nation.
Hour Three: Challenging the World focuses on de Gaulle's years as a republican monarch, when he was at last able to devote himself wholeheartedly to promoting his vision of France as a major player on the world stage, and reveals how de Gaulle's dreams for his country were abruptly shattered by the student-led uprising of May 1968.
Closed captioned
Films for the Humanities, Inc.