Doki Doki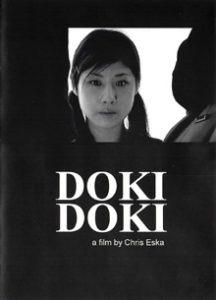 Call Number: JAPFFDVDD5
Alternate Title: Doki Doki
Year: 2003
Director: Chris Eska
Duration: 49 mins
Language(s): Japanese
Subtitle Language(s): English
Set in suburban Tokyo, DOKI-DOKI offers a peek into the lives of intimate strangers. Imagine sitting next to the same people on a commuter train every day for years without even knowing their names. Who are they? Where do they live? What are their dreams, fears and passions?
For Yumi, (Yumi Endo), the inquisitive young heroine of DOKI-DOKI, a film shot entirely on the streets and trains of Tokyo and Yokohama, these questions about her fellow train passengers create far too much mystery.
Considering herself somewhat of a detective, Yumi decides to discover who these people are and why fate brought them together. Of particular interest is Yosuke (Hayuto Sugano), a serious young man who attended the same preschool as Yumi, but apparently no longer recognizes her. After a chain of events disrupts the normal commute, Yumi takes the opportunity to secretly follow Yosuke through the streets of Tokyo. But before she leaves the train, Yumi shares a moment of connection with the shy and awkward schoolgirl, Makiko (Sae Takenaka). While Yumi discovers more about Yosuke, Makiko struggles to relate to her classmates and family. As evening comes, the three characters' lives intersect in a swirling climax of emotion.
"'Doki-Doki' is a Japanese onomatopoeia that refers to the sound of the heart beating. In slang popular with young women, it has come to mean a heightened state of anticipation or excitement, especially concerning the 'butterflies' in a girl's stomach when she's near a boy she has a crush on." —Director Chris Eska