Fellini Satyricon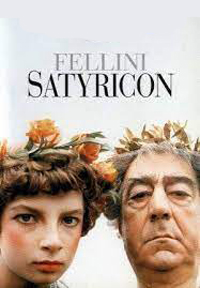 Call Number: ANCFFF1
Alternate Title: Satyricon
Year: 1969
Director: Federico Fellini
Duration: 129 mins
Language(s): Classics
Subtitle Language(s): English
Fellini Satyricon, or simply Satyricon, is a 1969 Italian fantasy drama film written and directed by Federico Fellini and loosely based on Petronius's work Satyricon, written during the reign of Emperor Nero and set in Imperial Rome.
After his young lover, Gitone, leaves him for another man, Encolpio decides to kill himself, but a sudden earthquake destroys his home before he has a chance to do so. Now wandering around Rome in the time of Nero, Encolpio encounters one bizarre and surreal scene after another. He's invited to a poetry reading that ends in violence; is taken hostage by pirates; and is even forced to battle a gladiator disguised as a minotaur in a giant labyrinth.
Satyricon recreates the bawdy and lecherous days of Nero's reign in ancient Rome.  It immerses you in a universe unconcerned with human dignity and obsessed with perverse sex, forced or purchased, but is is also an allegorical satire of our present-day world.  The decadence of ancient Rome and the self-indulgence of modern society are masterfully woven into an astonishing dreamland of sight ans sound.