Fisimatenten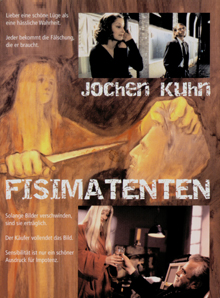 Call Number: GERFFDVDFI1
Alternate Title: Fisimatenten
Year: 1998
Director: Jochen Kuhn
Duration: 95 mins
Language(s): German
Subtitle Language(s): English
Edward, a young painter, lives in the idyll of an old country inn. He loves art and Hanna, his model. Sponsored by the gallerist Poser, a discerning, witty man with political ambitions, Edward is working on a single picture which he repeatedly paints over.
But the inn becomes an object of speculation for property dealers, and Edward loses his home. Determined that he will finally earn money with his art, he prepares for an exhibition of "painted over" pictures. Exhibition space costs money, so Edward makes a religious art object and sells it to the pastor. As advertising, he and Hanna present action-art in a museum, and Edward is invited to a talk show.
Then the confusion begins: Poser sells counterfeit works of art to high-ranking personalities and is sent to prison, the pastor loses his church to a car-parking concern, Edward falls briefly in love with an artist colleague and loses Hanna – life turns into a "painted over" picture, forcing Edward to take action.