Gad Elmaleh: L'autre c'est moi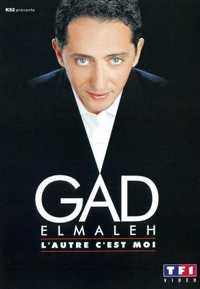 Call Number: Digital Video
Alternate Title: None
Year: 2005
Director: Jean-Louis Cap
Duration: 116 mins
Language(s): French
Subtitle Language(s): None
Gad Elmaleh is a Moroccan-Canadian stand-up comedian and actor who achieved fame in France, Morocco and the United States. He is best known in the French-speaking world and more recently in the United States. He has starred in several feature films, including Coco, Priceless, La Doublure and Midnight in Paris.
Many have become increasingly critical and choosy towards stand-up comedians, thanks to (or because of) decades of legendary entertainers like the hilarious Bill Cosby, Lenny Bruce or, in France, Coluche, Thierry Le Luron, Raymond Devos or more recently the other word-genius Vincent Roca, or else the very funny Dany Boon.  However, Gad Elmaleh's mastery of words, rhythm, silences, space, faces… is at its pinnacle. This is merely prodigious. The situations are common-everyday-life-shots, as is common in stand-up comedy, but the subtlety and the keenness of the observations that give birth to the sketches is extraordinary.  Gad Elmaleh keeps all along an elegance that definitely enthrones him amongst the finest humorists. No wonder he became "Chevalier des Arts & Lettres" (a high distinction in the French cultural milieu) in March 2006. Because not only you die laughing during his show but you feel more clever afterwards. You might even be a bit more confident in humanity.