Germany, Year Zero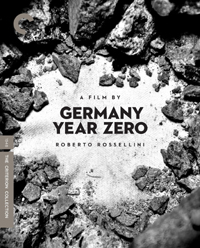 Call Number: Digital Video
Alternate Title: Germania anno zero
Year: 1948
Director: Roberto Rossellini
Duration: 78 mins
Language(s): Italian
Subtitle Language(s): English
In the devastated remains of post-war Germany, 12-year-old Edmund lives with his family and five other families in a battered apartment. His brother, a former Nazi, evades the police hiding there, while his sister walks the streets. As his father remains too ill to help them, it falls to Edmund to provide for the family by dealing with the black market. Growing desperate, Edmund allows a former schoolteacher who still remains a Nazi at heart to offer him help and some unusual advice.
After his father takes a turn for the worse, the schoolteacher tells Edmund that life is cruel and that the weak should be sacrificed so that the strong can survive. A kindly doctor manages to get his father admitted to a hospital, where he receives much more plentiful and healthy food. This temporarily relieves some of the pressure on his family. When Edmund goes to see his father, the old man bemoans his misery. He tells his son that he has considered suicide but lacks the courage to carry it out. He says that he is a burden and that it would be better if he were dead. Edmund steals some poison while no one is looking.
A few days later, the father is discharged and returns home. Edmund poisons his tea just before police raid the apartment and Edmund's brother finally turns himself in. The father dies while his elder son is in custody. Everyone assumes the death is due to malnutrition and sickness. When Edmund's brother returns, he is crushed by the news.  Later, when Edmund tries to join younger children in a street game of football, they reject him. He ascends the ruins of a bombed out building, and watches from a hole in the wall as they take his father's coffin away across the street. Finally, after hearing his sister call for him, he jumps from the building to his death.