Go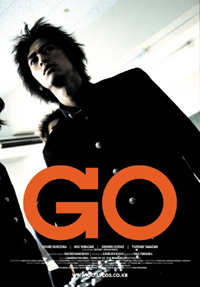 Call Number: Digital Video
Alternate Title: None
Year: 2001
Director: Isao Yukisada
Duration: 122 mins
Language(s): Japanese
Subtitle Language(s): English
Go is a 2001 coming-of-age movie, directed by Isao Yukisada, based on Kazuki Kaneshiro's novel of the same title, which tells the story of a Japanese-born North Korean teenager Sugihara (Kubozuka Yōsuke) and a prejudiced Japanese girl Tsubaki Sakurai (Kō Shibasaki) whom he falls for.
Sugihara feels more like a misfit than most high school students, being the son of a Japanese mother (Shinobu Ôtake) and a North Korean father (Tsutomu Yamazaki). Changing schools does not help much, as he is simply taunted by a different group of kids. Fortunately, his father has given him boxing lessons to keep the bullies at bay. When Sugihara falls for the popular Sakurai and she seems interested in him, he sees the possibility of being accepted.  He takes her out on a couple of dates and they gradually become intimate. However, tragedy strikes when Jong-Il is stabbed to death by a Japanese youth at a railway station. Jong-Il mistakenly thought that the youth was about to attack a female Korean student at the station. The boy, who is carrying a knife, attacks and kills Jong-Il. Sakurai comforts Sugihara, and that night they attempt to make love. She freezes in bed, however, when Sugihara confesses that he is Korean. She declares that she is afraid of a non-Japanese male entering her, and Sugihara leaves.

Six months later, on Christmas Eve, Sugihara is studying hard in preparation for the college entrance examinations. He is trying to fulfill the wishes of the deceased Jong-Il, who always wanted him to go to a (presumably Japanese) university. Sakurai calls him after a long period of silence between them and asks him to come to the place where they had their first date. In this last scene, they recover mutual affection and leave for some unknown place together in a light snowfall.