In the Fade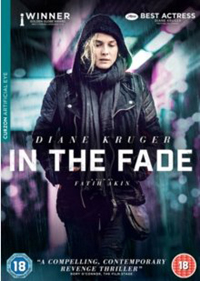 Call Number: Digital Video
Alternate Title: Aus dem Nichts
Year: 2017
Director: Fatih Akin
Duration: 106 mins
Language(s): German
Subtitle Language(s): English
In the Fade begins with a brief wedding scene shot on a shaky camera phone between a Kurdish prisoner and a tattooed, bottle dyed blonde. Cut to the present day Hamburg and the re-united couple, Katja Sekerci (Diane Kruger) and Nuri (Numan Acar), now have a 6-year-old son, Rocco. We are properly introduced to our protagonist, Katja, as she leaves Rocco in the care of Nuri at his office and takes their car to spend a spa day with pregnant friend, Brigit (Samia Chancrin). She returns to find the road barricaded by police and discovers that her husband's office was the target of a homemade bomb. We are immediately catapulted into the terrifying aftermath and devastation, as the two victims of the explosion are revealed to be her husband and son.
Katja barely has a moment to grieve before she is set upon by detectives, who are eager to determine whether this was an act of terrorism as they search for the motive behind the attack. Over the course of the investigation we learn that Nuri was a reformed drug-dealer, who, after serving his time in prison, worked as a legal advisor and translator to Turkish & Kurdish communities where his office was located. Katja recalls a brief encounter with a young German woman who had left her bicycle unlocked outside Nuri's office shortly before the explosion. While Katja believes that the crime was racially motivated, pointing to the rise of neo-Nazi supporters, she fights to convince her parents and police who are both quick to leap to the conclusion that Nuri's conviction and past made him a target.
Sinking deep into despair, Katja pushes away all those around her and seems set on a path of self-destruction, until a lifeline comes in the form of a double arrest for the attack, that includes the German woman she described. Finding new inner strength, Katja rallies and with the support of friend and attorney Danilo (Denis Moschitto), is determined to ensure that the couple arrested are charged with the racially motivated double murder. As both a co-plaintiff and key witness for the prosecution, she is pitted against a nasty defense lawyer, Haberbeck (Johannes Krisch), while she has to endure the painful details of the crime, which unfold over the course of the trial.