Irony of Fate or Steam with Light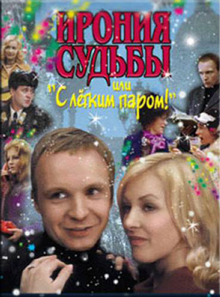 Call Number: RUSFFDVDI2, Digital Video
Alternate Title: Ironiya sudby, ili S lyogkim parom!
Ирония судьбы, или С лёгким паром!
Year: 1975
Director: El'dar Ryazanov
Duration: 185 mins
Language(s): Russian
Subtitle Language(s): English
The film's main character is the quite lovable loser, Zhenya, an agreeable doctor in his mid-thirties who lives with his mother in Moscow.  He has finally gotten engaged to a girl. However, he's rather afraid of her and it's abundantly clear that they're just wrong for each other.  It's New Year's Eve, and so Zhenya hits the bathhouse – the "banya" – with his friends for their annual tradition. After getting a good steam in, they get drunk out of their minds. In fact, the friends are so drunk that they forget which one of them is supposed to catch a flight to Leningrad. At the airport, they attempt to figure out which one of them is supposed to go, but they end up incorrectly putting Zhenya on the plane.
When Zhenya does get to Leningrad, he simply leaves the airport and gets a cab. He gives the driver his address and soon arrives at what he thinks is his apartment building. During this time in the Soviet Union, a new wave of construction made every building seem to look just like every other city building.  So, when Zhenya gets to his address (in Leningrad, not Moscow) he walks up to his apartment and opens the door with his (Moscow, not Leningrad) key.  Of course, the apartment is not his and he soon manages to frighten Nadya, the rightful occupant of the apartment.
Nadya is in many ways the same as Zhenya. She's a bit of a loser and is also in a relationship that isn't right for her. We soon meet her fiancé, Ippolit, as she's trying to get Zhenya to put his pants back on. When Ippolit arrives, we see that he's the exact opposite of Zhenya. He's a serious, proper man who wears a suit, slicks back his hair, and speaks with great seriousness as if he were at a communist party meeting. His formal propriety leads him to leave Nadya in disgust at Zhenya's disrobed state.  A touching and humorous romance soon unfolds between Zhenya and Nadya.