Joan the Maid: The Prisons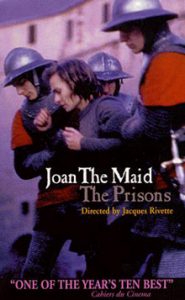 Call Number: FREFFJ4.2
Alternate Title: Jeanne la Pucelle - Les prisons
Year: 1994
Director: Jacques Rivette
Duration: 176 mins
Language(s): French
Subtitle Language(s): English
One of the most enduring tales in Western civilization is that of Joan of Arc, the illiterate teenager from a small village in northeastern France who, in 1429, led a successful series of military campaigns to free French cities from English occupation, thus allowing the dauphin of France to travel safely to Reims to be crowned King Charles VII of France. Dubbed the Maid of Orléans for the first city she freed, Joan's assaults on Paris and Compiégne were repelled, and she was captured and eventually burned at the stake as a heretic in 1431.
What has kept Joan a perennial favorite is not only the improbability of her quest and her dramatic, tragic end, but also the religious visions that propelled her into action and inspired the faith of seasoned soldiers and a would-be king to follow her lead. She is a prominent figure in the history lessons of all French children and an object of religious devotion for those who find solace in goddess worship.
Joan the Maid: The Prisons follows the later life of Joan Of Arc including her trial and execution.