Kazablan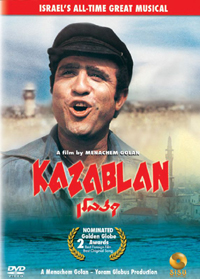 Call Number: HEBFFK1, Digital Video
Alternate Title: Kazablan, קזבלן
Year: 1973
Director: Menahem Golan
Duration: 122 mins
Language(s): Hebrew
Subtitle Language(s): English
Kazablan is a very famous and popular Israeli musical film, released in 1974. The film is based on an Israeli Hebrew language play, written by Yigal Mossinson and staged in 1954.
The name Kazablan comes from Casablanca, the birthplace of the main character. The film's huge success made Yehoram Gaon an overnight singing star and a figure of solidarity and pride for people of Sephardic origin, many of whom were entering a theatre for the first time.
This Israeli West Side Story unfolds when Kazablan, a dark Sephardic Jew, takes time out from hassling the poverty-stricken tenants of the Jaffa ghetto to court the fair-skinned Rachel, an Ashkenazic Jew.  As their cultures clash, Kazablan's passion gives way to pride when Rachel's father reveals his prejudice against the Sephardim. Enhanced by enthusiastic dancing and singing, this colorful, exuberant 1970's Romeo and Juliet remains Israel's best and most beloved musical.