The Reader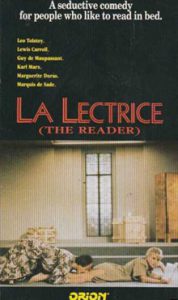 Call Number: FREFFL27
Alternate Title: La lectrice
Year: 1988
Director: Michel Deville
Duration: 98 mins
Language(s): French
Subtitle Language(s): English
Constance is in bed with her boyfriend when he asks her to read aloud to him. As she reads, she begins to imagine herself as the heroine of the story. The story Constance reads is about Marie, a young woman who needs employment and takes an ad in the paper, offering to read aloud to people. Marie finds that a surprising number of clients want to take advantage of her services – and, as she reads for them, she begins to enter into their lives.
Marie is played by Miou-Miou as a solemn woman who comes to care about her clients. There are several, each one with a different problem (and probably with a different "real" reason why he wants to be read aloud to). There is a young boy who has been gravely injured in an accident, and fears for his potency. He wants Marie to read him passionate poetry – and he falls in love with her, identifying her with the poems. An old woman, once filled with fire and conviction, hires Marie to read to her, for one last time, the writers like Tolstoy and Marx who once inspired her. A busy mother hires Marie to read "Alice in Wonderland" to her small daughter. And a rich investor who probably wants her to read him pornography, but is reluctant to say so, gets respectable erotica instead.
Each client's book reflects the nature of his or her fantasy, and Marie, of course, understands that immediately. As she reads to them, a curious process begins to take place. She becomes, in a way, the author of the books. The teenager idealizes her as a romantic. The old lady thinks she is an intellectual. The little girl sees her as a mother figure. And the businessman, of course, wants to sleep with her.  What is intriguing is that Marie starts to identify with the books, and so is almost able to see herself as lover, confidant, mother and prostitute.  And so, in our imaginations, we see her in all of her roles. In some scenes she is sweet, in others thoughtful, in others carnal. The film is a demonstration that we rarely can understand the secret minds of people, so therefore upon their exteriors we project our own fantasies.