Late Chrysanthemums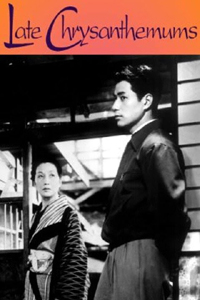 Call Number: JAPFFL2
Alternate Title: Bangiku, 晩菊
Year: 1954
Director: Mikio Naruse
Duration: 101 mins
Language(s): Japanese
Subtitle Language(s): English
Late Chrysanthemums interweaves the lives of four retired geisha in Tokyo over a period of four successive days. Kin, the first of the geisha, is a moneylender and a merciless businesswoman, who is insistent upon being repaid by her former geisha sisters Tamae, Tomi and Nobu. Her financial advisor Itaya tries to convince her to buy land in the countryside, as prices are constantly rising.
Tamae and Tomi, both former geisha and widows, live together. Tamae is plagued by migraines, and as a result, unable to work as frequently as she would like to as a maid in a hotel. She is also unhappy with her son Kiyoshi's relationship with an older mistress, who pays him for being at her service. Tomi is unable to repay her debts as a result of her addiction to gambling. She laments her daughter Sachiko's upcoming marriage to an older man and tries to persuade her against it. Nobu, the fourth of the geisha, runs a restaurant with her husband, which is frequented by the other women.
Seki, a former customer of Kin, who was sent to prison after he had attempted to kill her and commit suicide, tries to borrow money from her, but is quickly turned away. Kin then becomes excited when she hears that ex-soldier Tabe, her former patron and lover, is returning. To her disappointment, Tabe wants to borrow her money as well. She rejects his request and burns his photograph to cut all remaining ties.
Tamae and Tomi are eventually left alone when Kiyoshi leaves for Hokkaido for a job and Sachiko moves in with her future husband. Kin hears from Nobu that Seki was arrested for a money-related crime, but shrugs it off. She enters the train with Itaya to inspect property in the countryside which she considers buying.