Live Flesh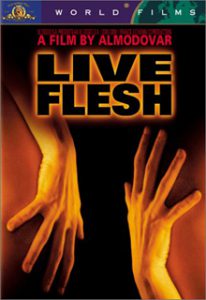 Call Number:
SPAFFDVDL18
SPAFFDVDL5
Alternate Title: Carne trémula
Year: 1997
Director: Pedro Almodóvar
Duration: 101 mins
Language(s): Spanish
Subtitle Language(s): English
Elena (Francesca Neri), the smacked-out daughter of an Italian diplomat is expecting a house call from her dealer.  She gets an unexpected visit from Victor (Liberto Rabal), a stranger with whom she had casual sex in a nightclub lavatory a few nights earlier. She gave him her name and number, scrawled on a scrap of paper, but now she's forgotten all about it and she's trying to get rid of him when two policemen – the young, athletic David (Javier Bardem) and the older, jaded Sancho (Jose Sancho) – burst through the door, waving pistols. There's a serio-comic standoff, a la Tarantino, during which David and Elena catch each other's eye, before a gun goes off and David is hit in the back. Victor's finger was on the trigger.
From his wheelchair, David becomes a star of Spain's Olympic paraplegic basketball team and marries Elena, who renounces the pleasures of adolescence and devotes herself to funding a refuge for neglected children. But when Victor comes out of jail after serving a six-year sentence, he emerges with a revenge strategy which involves seducing both Elena and Sancho's wife, Clara (Angela Molina), a retired flamenco dancer.
Their eventual capitulation is hardly surprising, given Rabal's possession of the dramatic looks and brooding presence, but the process of seduction never seems easy, and its meaning is enriched by painful complications and an uncomfortable resolution.