Live-in Maid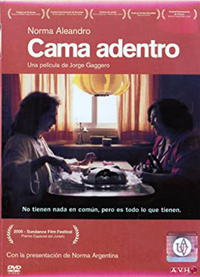 Call Number: Digital Video
Alternate Title: Cama adentro
Year: 2004
Director: Jorge Gaggero
Duration: 83 mins
Language(s): Spanish
Subtitle Language(s): English
During the Argentine economic crisis of the early 2000s, Beba, who was once wealthy, does not have enough money to pay her live-in maid, Dora. Without her husband's financial support, Beba sells cosmetics door-to-door and searches desperately for a way to pay her debts. But when Dora moves out of the apartment to live with her boyfriend after decades of service as a maid, Beba learns that friendship is invaluable.
Cama Adentro, which actually translates to "Bed Inside," a reference that audiences will not understand until the very end of the film, was released in the United States as Live-In Maid (and in Spain as Señora Beba). Though the US title implies that a maid will be the focus of the story, it is actually a former socialite and the employer of the maid that receives the majority of our attention. Despite the lopsided screen time, The film still finds time to focus on the lives of both the employer and employee, juxtaposing their differing experiences of the same historical event.
The film takes place in Buenos Aires during the economic crisis of the late 90's and early 2000's.  It focuses on Beba, a middle-aged woman who, without her former wealth, is now relegated to selling beauty products to her friends and local businesses.  The one person who has remained by her side is Dora, the maid who has put up with Beba's mistreatment for decades. However, as the crisis takes hold of the country, no one is able to escape its clutches. Beba promises Dora payment for her work, but when she defaults for several months, Dora decides to leave and pursue work elsewhere, leaving Beba to overcome the humiliation of losing everything on her own.