Lying Lips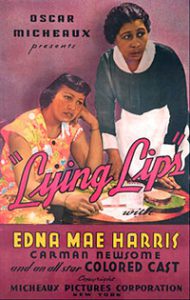 Call Number: Digital Video
Alternate Title: None
Year: 1939
Director: Oscar Micheaux
Duration: 80 mins
Language(s): English
Subtitle Language(s): English
Elsie is a popular nightclub singer, who refuses to go out with the customers. When she is framed and convicted for murdering her aunt, her friend Benjamin, a police detective, sets out to find the real culprit and to exonerate her.
Edna Mae Harris sparkles in this Oscar Micheaux crime caper. Unfortunately she's not on screen much after the halfway point. Harris Plays Elsie Bellwood, a nightclub singer being coerced into sex work by her white bosses. Later her aunt is murdered and she is framed for the crime. It's up to her lover, a former coworker who refused to pressure her into hustling, to solve the mystery and set her free.
Micheaux's "race films" made after the silent era were mostly quickie imitations of white Hollywood fare and this is no exception. The stilted dialogue can be hard to take. The film also suffers from colorism and has less to say politically than other examples from the era. But Harris' presence is still enjoyable. This is just a few years after her work in The Green Pasture.