Mad Love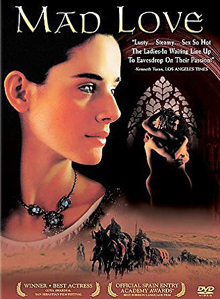 Call Number: SPAFFDVDJ2
Alternate Title: Juana la Loca
Year: 2001
Director: Vicente Aranda
Duration: 115 mins
Language(s): Spanish
Subtitle Language(s): English
In 1496, Joanna, the third child of the Catholic Monarchs Ferdinand II of Aragon and Isabella I of Castile, is leaving Spain through the port of Laredo. She is headed to Flanders to marry the Archduke of Austria, Philip, nicknamed the Handsome, a man she has never laid eyes on. The marriage has been arranged for political purposes.
Once in Flanders, Joanna, young and inexperienced, is immediately smitten by her handsome fiancé. He is equally pleased with his beautiful bride and orders the marriage to take place at that very moment so they can consummate their marriage without any delay. Their union is initially a great success. The political alliance between their two countries has been consolidated and Joanna and Philip are very attracted to each other. With his good looks and bed manners, Philip completely captivates his wife. Deaths in her family soon make Joanna heir to the throne, but Ferdinand suggests she inherited her grandmother's madness and supports Philip's ambition to rule instead.
Philip is soon bewitched by the charms and spells of Aixa, a Moorish prostitute who uses her sexual attraction and black magic to secure Philip's favor. With this new lover, the King becomes noticeably indifferent toward his wife, which adds to her increasingly insane jealousy and leads to political maneuvering in the Cortes (nobility-dominated parliament).
Eventually, Philip falls gravely ill. Although Joanna devotedly takes care of her husband, the doctors are unable to do anything for him. On his death bed, Philip apologizes to his wife for his past excesses. After the death of her husband Joanna, heavily pregnant, takes on a long journey to the south of the country to bury her husband. She does not get very far. Forced to stop to give birth to a daughter, Joanna never reaches her destination. Although she retains her title as queen, at the age of 28 she is locked up as a madwoman in the castle of Tordesillas for the rest of her long life.