Nobody Knows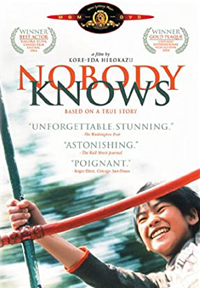 Call Number: Digital Video
Alternate Title: Dare mo Shiranai 誰も知らない
Year: 2004
Director: Hirokazu Kore-eda
Duration: 139 mins
Language(s): Japanese
Subtitle Language(s): English
Preteen Akira Fukushima (Yûya Yagira) and his young siblings have been abandoned by their mother, Keiko (You). Keiko, who has moved in with a new lover, has left Akira in charge of his brother, two sisters and a whole apartment, with little money and food to see them through. Akira and the other children, who were never enrolled in school, struggle to survive without basic amenities as they cope with a strange, solitary existence in a Tokyo apartment building.
This story, written and filmed by Hirokazu Kore-eda, is based on a true story from Tokyo, where four children were abandoned by their mother and lived in an apartment for months, unmissed and undetected. He tells the story not as a melodrama about kids in danger, but as a record of long, lonely days, of the younger children playing their games and watching TV, of Akira going out into the city to buy food and find money. He gets some from a man in a pachinko parlor, who tells him not to ask again: "You know, Yuki isn't my kid." All four of the children have different fathers. Now they have no mother, but they have one another. Akira could contact the authorities, but "that happened before," he tells a friend, "and it was a real mess."
Kore-eda creates a sense of intimacy within the apartment. He shoots close to the kids (there's no room to get further away), and underlines their claustrophobic imprisonment. They like one another, they have some toys, they get more or less enough to eat, usually less. One day Akira even takes their shoes out of a closet and lets them put them on, and takes them outside for a walk in the great free wide open world, which is so indifferent to them.