Roman City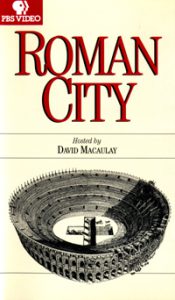 Call Number: ANCDOCR3, Digital Video
Alternate Title: None
Year: 1994
Director: Larry Klein
Duration: 60 mins
Language(s): Classics
Subtitle Language(s): None
The glories of Ancient Rome are explored in Roman City, based on David Macaulay's acclaimed book. This animated and live-action video recounts life in Verbonia, a fictional city in Gaul. A well-planned town with all modern conveniences, it is threatened by conflict between conquerors and conquered. Macaulay also visits Pompeii, Herculaneum, Ostia, Nimes, Orange, and Rome, to view actual Roman architecture and engineering greatness.
The Romans built cities in the lands they conquered in order to spread their civilization.  Cities brought commerce, technology, and government and greatly improved the quality of life for virtually everyone they touched.  Through a combination of documentary footage and animated story sequences, Roman City examines how cities helped maintain the Roman Empire.  The program also explores the role of the built environment in meeting and shaping people's needs.
In the live action segments, Macaulay visits many sites throughout the former Roman Empire including the Colosseum in Rome, The Pont du Gard in France, and ruins of Pompeii and explains how various structures were built and how they were used.  The animated segments tell the story of the construction of a fictional Roman City in the newly conquered territory of Gaul, visualizing both the ingenuity of Roman technology and resistance of the local inhabitants.