Sallah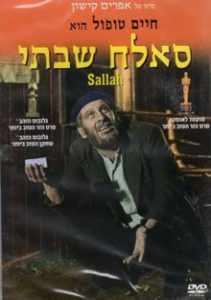 Call Number: HEBFFDVDS1
Alternate Title: Sallah Shabati, סאלח שבתי‎
Year: 1964
Director: Ephraim Kishon
Duration: 110 mins
Language(s): Hebrew
Subtitle Language(s): English
The film begins with Sallah Shabati, a Mizrahi Jewish immigrant, arriving in Israel by plane with his family: a very pregnant wife, an ancient female relative and seven children. Upon arrival he is taken to live in a ma'abara, or transit camp, where he is given a broken-down, one-room shack to live in with his family.
The rest of the movie follows his many attempts to make enough money to purchase an apartment in the nearby new housing development. His money-making schemes are often comical and frequently satirize the political and social stereotypes in Israel at the time.
Finally realizing that people are more likely to get what they don't want, he organizes a demonstration against the housing office shouting the slogan: "We don't want the development: we want the ma'abara!" The movie ends with residents being forcibly evicted by police and transported to – the new housing complex.