Samurai Fiction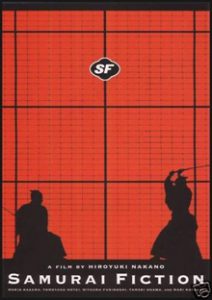 Call Number: JAPFFDVDS5
Alternate Title: Esu Efu Samurai Fikushon, サムライ・フィクション
Year: 1998
Director: Hiroyuki Nakano
Duration: 111 mins
Language(s): Japanese
Subtitle Language(s): English
The plot centers on Inukai Heishirō (Mitsuru Fukikoshi), the son of a clan officer. One of his clan's most precious heirlooms, a sword given to them by the Shogun, has been stolen by the samurai Kazamatsuri (Tomoyasu Hotei). Against his father's advice, Heishirō insists on retrieving the sword himself but his father sends two ninja after him to make sure he doesn't do anything foolish.
Kazamatsuri wounds Heishirō, and kills one of his companions. The young noble ends up staying with an older samurai (Morio Kazama) and his daughter Koharu (Tamaki Ogawa) while he heals from his wounds and plans his next move. The older samurai tries to dissuade him from fighting, but Heishirō's honor won't allow him to leave Kazamatsuri alive. The older samurai, who turns out to be master Hanbei Mizoguchi, convinces him to fight Kazamatsuri by throwing rocks rather than with swords.
Meanwhile, Kazamatsuri settles for a few days at a gambling house owned by Lady Okatsu (Mari Natsuki), who falls in love with him. Then one night one of the ninjas sent to protect Heishirō bribes her into poisoning him for one thousand gold pieces. She does, but Kazamatsuri tastes the poison and kills Okatsu. He then kidnaps Koharu in an attempt to get the master Mizoguchi to fight him.
Kazamatsuri fights Mizoguchi, who only draws his sword after his opponent destroys his wooden sword. He then disarms Kazamatsuri near a cliff. Kazamatsuri, admitting defeat, commits suicide by jumping off the cliff. Heishirō and the others go to the bottom, where there is no sign of Kazamatsuri's body, but Koharu spots the stolen sword at the bottom of the river, where Heishirō retrieves it.
A year later, Heishirō marries Koharu, the sword is restored, and Mizoguchi becomes an official in Heishiro's clan.