Scarecrow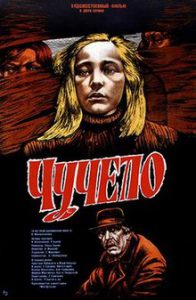 Call Number: RUSFFS1
Digital Video
Alternate Title: Chuchelo, Чучело
Year: 1984
Director: Rolan Bykov
Duration: 130 mins
Language(s): Russian
Subtitle Language(s): English
A twelve year old girl, Lena, who has come to live with her grandfather in a small Russian town is being bullied by her classmates.  She slowly reveals the reason for the bullying over the course of the film, which is told in a series of flashbacks.
The students are excited about an upcoming spring break trip to Moscow, but are told by the teacher to get the money for the trip from their parents. Lena comes up with the idea of raising the money by working at a nearby farm. The teacher is supportive and the project gets under way, with Lena and Somov, Lena's love interest, getting closer as friends. But when the group returns from work to the classroom and sees the note from the teacher about a literature lesson, they instead come up with the idea of running off to the theater to watch a movie. Somov insists that they must follow the teacher's directives, but other students berate him for thinking he's in charge. To save face, he agrees with the plan to go to the movies. They rush out, but Somov forgets the money, and Lena falls and gashes her knee when running back to get it. Somov returns for the money, and Lena returns for a bandage, where she overhears a heated exchange between the teacher and Somov, who admits that the class ran off to the movies.
On the first day of spring break, the children are being lectured by the teacher regarding their bad behavior. The bell for the buses rings, and all rush to depart, but the teacher stops them, saying that part of their punishment is that they will not get to go on the spring break class trip to Moscow. Crushed, they watch the buses leave without them. One of the tougher girls who goes by the nickname "Iron Tack" figures that someone betrayed them about the movie. She decides to find out who the traitor is. Somov is sweating and scared, and when his pulse is checked by the girls, it's found to be above normal. To save him, Lena says that it was she who told the teacher.  She is bullied relentlessly as a result until Somov finally confesses that it was he who told the teacher.