Serial (Bad) Weddings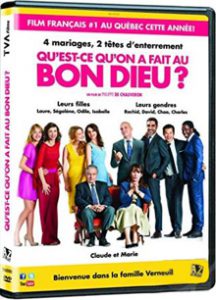 Call Number: Digital Video
Alternate Title: Qu'est-ce qu'on a fait au Bon Dieu?
Year: 2014
Director: Philippe de Chauveron
Duration: 97 mins
Language(s): French
Subtitle Language(s): English
Claude Verneuil (Christian Clavier), a Gaullist notary, and his wife Marie (Chantal Lauby), a Catholic bourgeois from Chinon, are proud parents of four daughters: Isabelle, Odile, Ségolène, and Laure. The three eldest are already married. Unfortunately their husbands are of a different religion and a different ethnic origin – a Jew, an Arab, and a Chinese. The Verneuils of course pretend to accept their sons-in-law.  After all,  it's not Middle Ages, but sometimes they have a hard time hiding their discomfort at the thought that there are so many people from outside the community in their family. Some neighbors even call them communists. That's why they hope their youngest, Laure, a bright lawyer working for TV, will choose the right man: white, French, Catholic, more or less conservative, in short a son-in-law they could be proud of.  One day Laure announces that she wants to marry.  Her fiance's name is Charles, he is Catholic, he is French, but there is a catch: he comes from the Ivory Coast.