Sins of My Father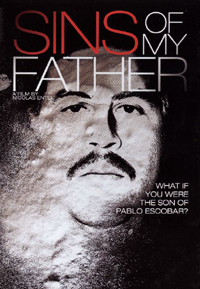 Call Number: Digital Video
Alternate Title: Pecados de mi padre
Year: 2009
Director: Nicolas Entel
Duration: 94 mins
Language(s): Spanish
Subtitle Language(s): English
In 1993, after Pablo Escobar is gunned down by the police, his then 16-year-old son Juan Pablo flees to Argentina together with his mother and sister. To avoid being identified and in fear of his life he changes his name to Sebastián Marroquín. "My life was worth $4 million … That's the price they put on my head," he said.
After a decade of silence, Marroquín and his mother publicly speak about the life of their family member for the first time. In an attempt to end the cycle of violence and to ask for forgiveness Marroquín travels to Colombia to meet the sons of two of his father's most prominent murder victims: presidential candidate Luis Carlos Galán and Minister of Justice Rodrigo Lara Bonilla, as well as the son of the former Colombian president César Gaviria.
In connection to telling the story of Pablo Escobar, the film explores the Colombia's recent violent history as a "narco-state" and the country's illegal drug trade.