Speak Up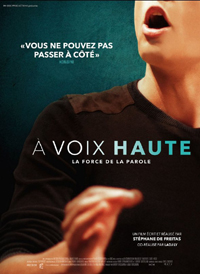 Call Number: Digital Video
Alternate Title: À voix haute – La Force de la parole
Year: 2016
Director: Stephane de Freitas
Duration: 78 mins
Language(s): French
Subtitle Language(s): French
The French have always had a way with words, which is why the annual college concours Eloquentia, or eloquence competitions, seem to have the same status there that the Final Four does in the U.S.
But not everyone is a born orator, nor are they necessarily given the tools to express themselves — especially if one comes from a family where French isn't even the first language. In the rabble-rousing documentary Speak Up (A voix haute – La Force de la parole), director Stephane de Freitas focuses on a group of mixed race students who partake in the Eloquentia contest for the first time. Most of them have never spoken in public, but by the time the film is over, they could give Charles de Gaulle a run for his money.
Unlike in the U.S., where speech classes are typically part of a high school or college curriculum, in France it's usually the professor who talks while everyone else listens. Expressing oneself is not something that's often taught in school, so giving a voice to people — especially those from the problematic banlieue of Seine-Saint-Denis — rarely heard in the media or elsewhere is practically a political act on the part of the Eloquentia organizers, and de Freitas (who is one of its founders) thrillingly chronicles the results.