Sugar Cane Alley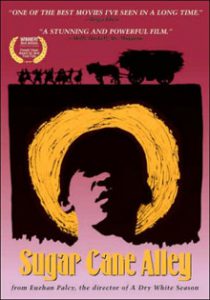 Call Number: Digital Video
Alternate Title: Rue cases nègres
Year: 1983
Director: Euzhan Palcy
Duration: 103 mins
Language(s): French
Subtitle Language(s): English
Martinique, in the early 1930s. Young José and his grandmother live in a small village. Nearly everyone works cutting cane and barely earning a living. The overseer can fine a worker for the smallest infraction. The way to advance is to do well in school. José studies hard and succeeds on an exam allowing him to attend school in the capital. With only a partial scholarship, the tuition is very costly. José and his grandmother move to Fort-de-France to make José's studies easier.
Another student, a girl, also wins a place at the school, but her father has already promised her to other people and does not allow her to go. José gives her his pocket watch to express his condolence to her. His grandmother accompanies him to the capital, working as a laundrywoman for the rich white households to pay the remainder of the fees and their living costs. They are able to find a small trailer to use as a home thanks to José's friend Carmen who drives the boat between the rural area and Fort-de-France.
José deals with pressure around him, especially from one of his teachers. When he writes an essay on the lives of poor blacks he is accused of plagiarism, so he runs away from school, back to his small shack in the city. The professor goes to his house and tells José that he was wrongly accused, offering an apology and a full scholarship to the school and stipend monies. José makes enough stipend to relieve Ma'Tine from her laundress job.
Later José returns to Black Shack Alley after his grandmother has a heart attack while returning home from a trip to a local clothes maker to make José a fresh suit. José sees Léopold being arrested for stealing the boss' ledger to prove that he was cheating the workers out of their earnings. As his grandmother dies, José is launched into a future he cannot control, but will continue to write about his home and the suffering of his brethren.