Sun Alley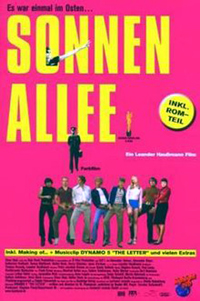 Call Number: Digital Video
Alternate Title: Sonnenallee
Year: 1999
Director: Leander Haußmann
Duration: 101 mins
Language(s): German
Subtitle Language(s): German
The opening to Sonnenallee hints that this fine new German comedy is going to offer a twist on the usual teenage coming-of-age story. With a screenplay by first-time director Leander Hausmann and author Thomas Brussig, the film depicts the life of a group of East German teenagers in the 1970s on Sonnenallee, an actual street running through Berlin which was sliced through by the Wall at one end. The East German residents of the street required special permits to live so close to the border crossing, which is always present as the simple story plays out.
Micha (Alexander Scheer), Mario (Alexander Beyer) and their friends talk one day of starting a resistance group, but their attention soon shifts to more pressing matters like acquiring "forbidden" Rolling Stones albums or meeting girls, such as the block's blonde princess Miriam (Teresa Weissbach), who literally stops traffic when she appears.  The teens rebel against their insular communist surroundings by immersing themselves in contraband rock records and other forms of pop art. What is at first a fad becomes a lifesaver as each kid comes to face the crushing realities of impending adulthood.
Hausmann and Brussig take great care to provide fine details of the absurdity of daily life in East Germany: bizarrely designed, malfunctioning household goods; the presence of all kinds of state police and Communist youth groups; attempts at Marxist indoctrination in the schools (the source of some of the best gags); and the lure of the West, with its forbidden wares, music and television.