Tel-Aviv Stories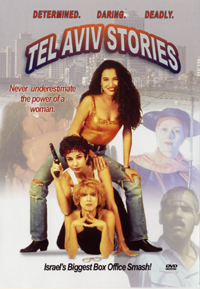 Call Number: Digital Video
Alternate Title: Sipurei Tel-Aviv
Year: 1993
Director: Ayelet Menahemi, Nirit Yaron
Duration: 108 mins
Language(s): Hebrew
Subtitle Language(s): English
"Tel-Aviv Stories" is Israel's response to Pedro Almodovar's "Women on the Verge of a Nervous Breakdown." Mildly entertaining anthology of three short stories, each focusing on a hysterical woman in a state of crisis, provides some insights about the psyche of modern Israeli women. But uneven writing and amateurish production values will limit its appeal to those interested in the new Israeli cinema.
In the first story, "Sharona Honey," a stunningly beautiful woman (Yael Abecassis) is relentlessly pursued by four men, all madly in love with her, all interested in fathering her baby. At the center of "Operation Cat," the second and weakest segment, is Sophie (Ruthi Goldberg), a woman dumped by her husband who spends most of her time fighting bureaucratic obstacles in her attempt to save a kitten caught in the sewer. The third, and most hysterical, episode, "Divorce," revolves around Tikva (Anat Waxman), a policewoman who loses her temper and takes hostages in order to prevent her husband from leaving the country before granting her a divorce.
The premise is amusing, but the execution of this low-budgeter leaves a lot to be desired. Still, all three actresses are charming and interesting to watch, even when the script lacks wit. Singly and collectively, they provide a glimpse of the changing morality and sexuality of the Israeli woman.