The 400 Blows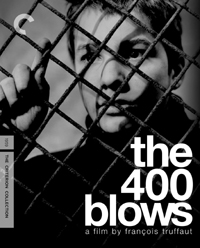 Call Number: Digital Video
Alternate Title: Les Quatre Cents Coups
Year: 1959
Director: François Truffaut
Duration: 99 mins
Language(s): French
Subtitle Language(s): English
For young Parisian boy Antoine Doinel, life is one difficult situation after another. Surrounded by inconsiderate adults, including his neglectful parents, Antoine spends his days with his best friend, Rene, trying to plan for a better life. When one of their schemes goes awry, Antoine ends up in trouble with the law, leading to even more conflicts with unsympathetic authority figures.
Antoine frequently runs away from home and he finally quits school after his teacher accuses him of plagiarizing Balzac in a school essay.  He steals a Royal typewriter from his stepfather's workplace to finance his plans to leave home, but, having been unable to sell it, is apprehended while trying to return it.  His stepfather turns Antoine over to the police and Antoine spends the night in jail, sharing a cell with prostitutes and thieves. During an interview with the judge, Antoine's mother confesses that her husband is not Antoine's biological father. Antoine is placed in an observation center for troubled youths near the seashore (as his mother wished).  A psychologist at the center probes the reasons for Antoine's unhappiness, which the youth reveals in a fragmented series of monologues.
François Truffaut's first feature is also his most personal. Told from the point of view of Truffaut's cinematic counterpart, Antoine Doinel, The 400 Blows (Les quatre cents coups) sensitively re-creates the trials of Truffaut's own childhood, unsentimentally portraying aloof parents, oppressive teachers, and petty crime. The film marked Truffaut's passage from leading critic to trailblazing auteur of the French New Wave.