The Day of the Owl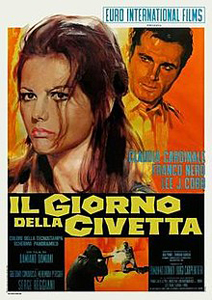 Call Number: Digital Video
Alternate Title: Il giorno della civetta
Year: 1968
Director: Damiano Damiani
Duration: 108 mins
Language(s): Italian
Subtitle Language(s): Italian
In Sicily, truck driver Salvatore Colasberna is murdered while delivering a load of cement to a highway construction project. The murder takes place within sight and earshot of the house of Rosa Nicolosi (Cardinale) and her husband. Police captain Bellodi (Nero) hears that there may be irregularities in the construction of the highway that amount to corruption. He is also told that Rosa has loose morals, though she denies it strenuously and claims that she has been faithful to her husband.
Bellodi is unable to determine whether Colasberna was murdered because he stumbled onto a corruption racket or because he was a lover of Rosa, and was shot by her husband, who disappeared after the murder. Another possibility is that Nicolosi saw the murderer and was also murdered, or went into hiding fearing for his life.
Bellodi is thwarted by an honor system, where witnesses lie and withhold information out of allegiance to the local Mafia don, Mariano Arena (Cobb). He resorts to the unorthodox strategies of jailing witnesses, forging statements, and confronting witnesses with false accusations by others, even going so far as to arrest Arena.