The Death of Mr. Lazarescu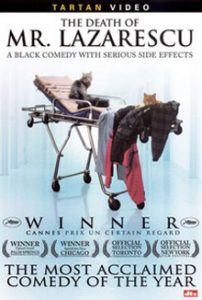 Call Number: MSCFFDVDD1, Digital Video
Alternate Title: Moartea domnului Lăzărescu
Year: 2005
Director: Cristi Puiu
Duration: 153 mins
Language(s): Romanian
Subtitle Language(s): English
Mr. Lăzărescu (Ion Fiscuteanu) is a retired Romanian engineer, spending his time in the company of his cats and booze. When he starts feeling unusually ill, he first seeks painkillers from his neighbors. It soon becomes apparent that Lăzărescu is indeed sick, and an ambulance arrives with a nurse, Mioara, (Luminita Gheorghiu) who has a few ideas about what could be the problem. However, a major traffic accident and poor organization leaves little room in Romanian hospitals for the fading Lăzărescu.
The film follows Lăzărescu's journey through the night, as he is carried from one hospital to the next. At the first three hospitals, the doctors, after much delay, reluctantly agree to examine Lăzărescu. Then, although finding that he is gravely ill and needs emergency surgery, each team refuses to admit him and sends him to another hospital. Meanwhile, Lăzărescu's condition deteriorates rapidly, his speech is reduced to babbling, and he slowly loses consciousness. The hospitals are jammed with injured passengers from a bus accident, but some doctors appear to reject him out of fatigue or because they do not feel like taking care of a smelly old drunkard. During the night, his only advocate is Mioara, the paramedic who stubbornly stays by him and tries to get him hospitalized and treated, while passively accepting verbal abuse from the doctors who look down on her.
Finally, at the fourth hospital, the doctors admit Lăzărescu. The film ends as they prepare to perform an emergency operation to remove a blood clot in his brain.
A Capstone Video