The Eel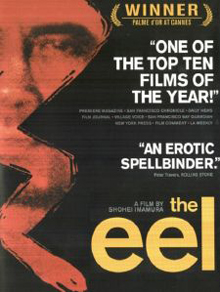 Call Number: JAPFFDVDE1
Alternate Title:The Eel
Year: 1998
Director: Shohei Imamura
Duration: 117 mins
Language(s): Japanese
Subtitle Language(s): English
In a jealous rage, Takuro Yamashita brutally murdered his beautiful wife after watching her making love to another man. Without hesitating, he delicately covered her lifeless body and turned himself in to the local authorities.
After an eight-year prison sentence, he close to start a new life in a small town offering perfect isolation from his fears. The agonizing pain of his wife's infidelity has left him unforgiving and without remorse. For years now, his only solace has been through an eel he kept as a pet  in prison and, as of late, in a small tank at the barbershop.
As a favor to the town's priest, Takuro has reluctantly agreed to help a young woman(Keiko) with a trouble past by offering her a job as his assistant. Beautiful, sincere and uncompromisingly dedicated, it would appear that Keiko is just what Takuro needs in his life. However, when he least expects it, Keiko's past will collide with Takuro's. And, if he isn't careful, Takuro's past will come back to haunt him forever.