The Hidden Fortress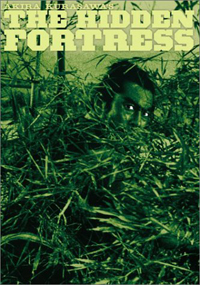 Call Number: JAPFFDVDH3, Digital Video
Alternate Title: Kakushi-toride no san-akunin, 隠し砦の三悪人
Year: 1958
Director: Akira Kurosawa
Duration: 139 mins
Language(s): Japanese
Subtitle Language(s): English
Lured by gold, two greedy peasants escort a man and woman across enemy lines. However, they do not realize that their companions are actually a princess and her general.
Japanese peasants Matashichi (Kamatari Fujiwara) and Tahei (Minoru Chiaki) try and fail to make a profit from a tribal war. They find a man and woman whom they believe are simple tribe members hiding in a fortress. Although the peasants don't know that Rokurota (Toshirô Mifune) is a general and Yuki (Misa Uehara) is a princess, the peasants agree to accompany the pair to safety in return for gold. Along the way, the general must prove his expertise in battle while also hiding his identity.
A grand-scale adventure as only Akira Kurosawa could make one, The Hidden Fortress stars the inimitable Toshiro Mifune as a general charged with guarding his defeated clan's princess (a fierce Misa Uehara) as the two smuggle royal treasure across hostile territory. Accompanying them are a pair of bumbling, conniving peasants who may or may not be their friends. This rip-roaring ride is among the director's most beloved films and was a primary influence on George Lucas's Star Wars. The Hidden Fortress delivers Kurosawa's trademark deft blend of wry humor, breathtaking action, and compassionate humanity.