The Ladies Get Their Say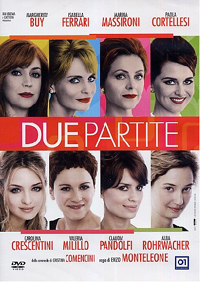 Call Number: Digital Video
Alternate Title: Due partite
Year: 2009
Director: Enzo Monteleone
Duration: 94 mins
Language(s): Italian
Subtitle Language(s): English
Every Thursday a group of ladies would gather to play cards and discuss their loves, lives and children while their daughters played in the next room. Thirty years later, the daughters meet at a funeral for one of the mothers. Like their mothers, they discuss their hopes, dreams and fears.
A bittersweet comedy about the world of women. Two eras, two ways of being a woman. The Sixties: a card game just to be together. Every Thursday afternoon, four friends chat about loves and betrayals, theorizing about motherhood, life and marriage problems. They argue, they laugh, they talk with complicity and a little cynicism. Thirty years later: the daughters are back together at the funeral of one of their mothers. They are the same girls who, during the card games, were playing in the next room. Like their mothers, they spoke about their dreams and fears, the passage of time, their working life, the desire for motherhood. Decades have passed but female identity seems unchanged, despite a career and empowerment, today as before, being a woman means energy, joy, efforts and pain.
Based on Cristina Comencini's eponymous play.