The Rhinegold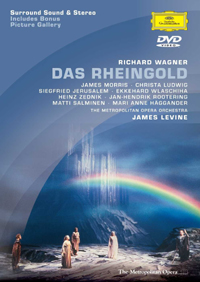 Call Number: Digital Video
Alternate Title: Das Rheingold
Year: 1978
Director: Herbert Von Karajan
Duration: 120 mins
Language(s): German
Subtitle Language(s): English
Das Rheingold is the first of the four music dramas that constitute Richard Wagner's Der Ring des Nibelungen, (English: The Ring of the Nibelung). It was performed, as a single opera, at the National Theatre Munich on 22 September 1869, and received its first performance as part of the Ring cycle at the Bayreuth Festspielhaus, on 13 August 1876.
As the "preliminary evening" within the cycle, Das Rheingold gives the background to the events that drive the main dramas of the cycle. It recounts Alberich's theft of the Rhine gold after his renunciation of love; his fashioning of the all-powerful ring from the gold and his enslavement of the Nibelungs; Wotan's seizure of the gold and the ring, to pay his debt to the giants who have built his fortress Valhalla; Alberich's curse on the ring and its possessors; Erda's warning to Wotan to forsake the ring; the early manifestation of the curse's power after Wotan yields the ring to the giants; and the gods' uneasy entry into Valhalla, under the shadow of their impending doom.
This 1978 studio production of the prologue to Wagner's masterpiece is the only segment of the famous Salzburg Festival/Metropolitan Opera productions, first seen in the 1960s, that made it to film. Based on one of those original productions, Georges Wakhevitch produced stage settings and transformations that supported Karajan's concept with every possible means. Herbert Von Karajan's staging is in the epic style of another age, emphasizing the dignity of the gods rather than their all too human failings. With the singers – foremost among them Peter Schreier – Karajan had an ensemble that fully conformed to his intentions.