The Silent Revolution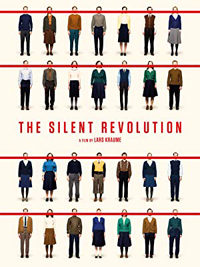 Call Number: Digital Video
Alternate Title: Das schweigende Klassenzimmer
Year: 2018
Director: Lars Kraume
Duration: 111 mins
Language(s): German
Subtitle Language(s): German
The film tells the story of a high school class in the communist German Democratic Republic, who have a moment of silence in their classroom for the victims of the failed anti-communist Hungarian Revolution of 1956. This small act of solidarity has unforeseen consequences, impacting the children, their parents and the school board. The film is based on a true story told in a book of the same name by Dietrich Garstka (1939–2018), one of the students.
This is a solid, good-looking piece of film making which is elevated by a clutch of strong performances from the young cast.  We are introduced to Kurt (Tom Gramenz), the son of a high-ranking communist, and Theo (Leonard Scheicher, particularly impressive), the son of a steel worker, as they lie their way across the border to catch a forbidden movie which is rumored to contain nudity. But, unexpectedly, the schoolboy thrills are overshadowed by newsreel footage which gives a harrowing account of the Hungary's attempt to oust the occupying Soviets. Chafing under their own occupation, the boys identify with the rebels, and in a bout of teen fervor, persuade their fellow students to hold two minutes of silence during class.
The school principal hopes to keep the incident under wraps, but the situation escalates and soon the Education Minister (Burghart Klaußner, with an intimidating performance which crashes into the film like a headbutt) is demanding the names of the ringleaders. The students' high school diplomas – their tickets out of grueling blue collar drudge work like that of Theo's father – are used as leverage. A boisterous, initially overbearing score is toned down as the students gradually realize the gravity of their situation.