The Story of the Zodiac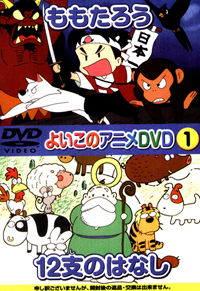 Call Number: Digital Video
Alternate Title: The Story of the Zodiac
Year: 1992
Director: Unknown
Duration: 9 mins
Language(s): Japanese
Subtitle Language(s): None
Animation of Japanese Traditional Stories
Once upon a time, God wrote a letter to all the animals and said, "The first twelve animals to greet me on the morning of New Year's Day can be king of the animals for one year in turn." All the animals except the cat read God's letter. The cat asked the rat what the letter had said, and the rat lied and said that the first twelve animals to greet God on January 2 could be king of the animals.
New Year's Day arrived. The ox started out at midnight, but the cunning rat climbed on the back of the ox and the ox carried the rat without realizing it.
When they arrived at the gate of God's house, the rat jumped down just in front of the ox and thus became the first to arrive, with the ox second. Then the tiger and rabbit arrived third and fourth. The dragon and the snake were neck and neck but finally the dragon won by its long whiskers, so the dragon was fifth and snake sixth.
Then the horse came seventh, the sheep eighth, the monkey ninth and the rooster tenth. The boar was coming next, but as he rushed forward he hit the gate and fell, and was overtaken by the dog. This made the dog eleventh and the boar twelfth.
After the twelfth animal was settled, the cat rushed into God's house, and was very angry with the rat for lying about the date. The cat has been chasing the rat ever since!