The Young and the Damned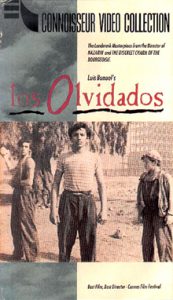 Call Number: SPAFFDVDO1
Alternate Title: Los olvidados
Year: 1950
Director: Luis Buñuel
Duration: 88 mins
Language(s): Spanish
Subtitle Language(s): English
A group of juvenile delinquents live a violent and crime-filled life in the festering slums of Mexico City, and the morals of young Pedro are gradually corrupted and destroyed by the others.
Once he escapes juvenile prison, El Jaibo resumes his role as the ringleader of a group of troubled street kids in Mexico City's slums. El Jaibo leads them to pilfer, but he wants retribution. Determined to find the man who allegedly sent him to jail, he enlists the help of Pedro, one of the younger boys. Before long, Pedro becomes entangled in a criminal world that threatens to destroy what little he has, no matter how hard he tries to leave that world behind.
Full of offbeat images and symbolism, Buñuel mixes realism and surrealism in what is not only one of his most powerful films but also one of the greatest and most heart-wrenching films about poverty and childhood.