Ulysses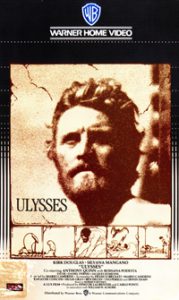 Call Number: ANCFFU1
Alternate Title: None
Year: 1954
Director: Mario Camerini
Duration: 94 mins
Language(s): Classics
Subtitle Language(s): None
The Greek warriors pour from the belly of the Trojan Horse, end their arduous IO-year siege in a whirl of fire and gore and in the smoky aftermath, wipe the blood from their swords and turn their thoughts homeward. For the bravest of these warriors, it will be another decade of heroic adventure before he sees the welcoming shoreline of his beloved Ithaca and returns to the arms of his faithful wife Penelope.
Kirk Douglas dons sandals and sword as Ulysses, the seafaring wanderer whose return from the Trojan Wars became a legendary adventure unlike all others. "The gods," Ulysses says, "are playful…and without pity." Indeed, he should know; King Neptune has sworn to avenge the conquest of Troy. The enraged sea god thrusts incredible obstacles into the warrior's homeward path, including the ravenous one-eyed Cyclops, the alluring Siren songstresses, the sultry witch Circe and the doomed denizens of Hell.
Meanwhile, at Ithaca, an impassioned horde of parasitic suitors (including a menacing Anthony Quinn) has gone from seeking Penelope's hand in marriage to forcing her hand. If Ulysses cannot somehow stop them, she will be forced to marry the winner of the Games of Apollo.