Vampires in Havana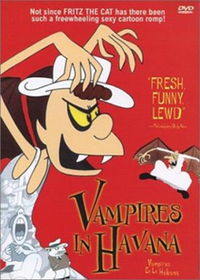 Call Number: Digital Video
Alternate Title: ¡Vampiros en La Habana!
Year: 1985
Director: Juan Padrón
Duration: 80 mins
Language(s): Spanish
Subtitle Language(s): English
"Pepito is many things in Cuban folklore, but mostly an irreverent kid with an uncanny gift for thumbing his nose at adults. In Juan Padrón's animated horror comedy, Vampiros en La Habana, Pepito is a swinging trumpet player (music performed by Grammy-winner Arturo Sandoval) in 1930s Havana who sidelines as an anti-dictator Machado revolutionary and irresistible ladies' man. Unbeknownst to our busy hero, he's also a vampire. Turns out Pepito's uncle Werner, son of Count Dracula, has been using him as an unwitting test subject for an elixir, Vampisol, that allows vampires to live in broad daylight. It's not long before the Chicago mob of Johnny Terrori and nefarious European businessmen start pursuing the formula, each for his own greedy interest. What's a helpless Cuban vampire to do?
"Director Padrón has the last laugh as he blithely sends-up the stick figures of Cuban propaganda. Vampiros en La Habana is a very politically incorrect romp that matches Ralph Bakshi's notorious Fritz the Cat for sheer bawdiness. The stakes couldn't be higher. Excessive consumption of Vampisol can effectively wipe out a vampire's identity, turning him into that most wretched of creatures: a human."